I hate credit cards with a passion. The more I walk through life trying not to use them, the more I hate them. My family and I drove to Florida late last week, which gave me the opportunity to find yet another reason to despise them. No matter how much I want to pay with cash, or at least with my debit card so the money comes immediately out of my checking account, businesses seem insistent in pushing me to use the demon plastic. As my wife and I planned our trip, we carefully budgeted our spending for each day. We ensured had saved enough funds to cover our projected spending for the trip. We withdrew cash for our day to day spending, and left money in our checking account for spending for which we planned to use our debit card. As we checked into our hotel at the end of our second day of travel I noted the following sign displayed prominently on the front desk: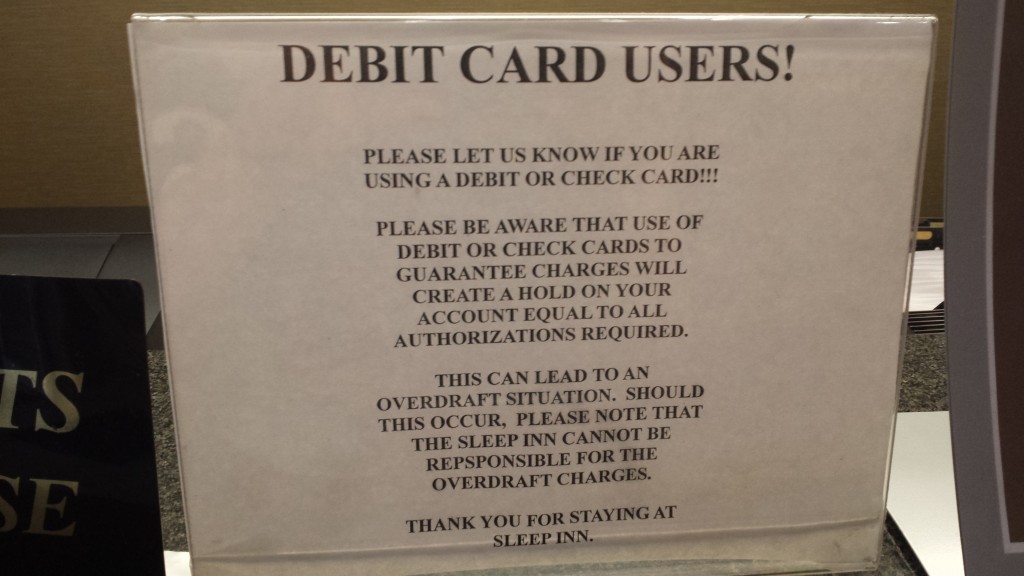 The employee behind the counter explained that it usually takes about five business days for the hold to be removed. During that time period the held amount would be inaccessible. For a family that has laid out our trip in painstaking detail for budgeting purposes, having $100 removed from our checking account for a week throws a bit of a wrench into our spending plan. We're trying to be financially responsible and avoid the temptation of overspending by not using credit cards. Yet this hotel is forcing me to break the emergency glass, and use one. The reason businesses do this is because customers are more likely to run their bank accounts close to zero than they are to have their credit cards close to the maximum credit limit. The hotel wants to be protected in the case some additional cost is incurred. Holding an additional amount on a debit card, or having a credit card number gives the business a better chance of getting money if there happens to be some sort of incident. There are several different incidental policies that are implemented by hotels:
Pay with however you'd like, but give a credit card number for incidentals.
Pay with debit/credit, incidentals charged if they incurred.
Pay with debit/credit, extra amount held for incidentals
When you're traveling and will be staying in hotels, you may want to find out what the policy is before you decide to book your room. If you're on a tight travel budget, it could make a huge difference. For me, I will favor businesses that use the second policy. Unless they have a reason, they can keep their hands off my money, and I can keep my credit card behind glass. Have you ever experienced an unexpected policy regarding a hold of funds on your debit card?  Did it cause you any problems?