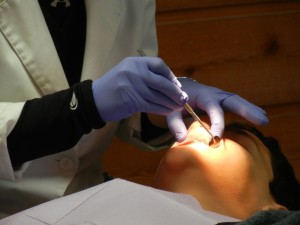 My daughter started her orthodontic adventure last week, having braces put onto her teeth. I would have included a picture of her new look, but cameras within a 10 foot radius are now prohibited. Within hours of leaving the orthodontist's office, her teeth started aching. With a total bill of about $5300, my daughter's orthodontic treatment could have made my budget ache as well.
The $5300 bill for my daughter's braces will barely affect our monthly budget.
The good news is that our monthly budget will barely have to change at all to pay for the large orthodontic bill.   This didn't happen by accident, it's a product of careful planning and the optimal use of our health insurance coverage options.
Open A Health Savings Account
In November of 2014, we selected our health insurance options for 2015. Instead of going with the usual low deductible, high premium insurance we had used for years, we enrolled in a high deductible, low premium plan with a Health Savings Account. I then set my plan to have the cost difference between the two plans to be taken out of my paycheck pretax and deposited in my Health Savings Account (HSA). Our health insurance costs stayed exactly the same from 2014 to 2015, but instead of throwing our premium payments away, we accumulated funds in our HSA.
We used our HSA funds to pay for our medical expenses in 2015, and still had a balance of $3000 at the end of the year. With a healthy balance saved (no pun intended), we were ready to proceed with the next part of the plan.
Increase Dental Insurance
For years we also enrolled in the basic dental insurance. It covers cleanings and fillings, but did NOT cover orthodontic treatment. For 2016, we increased our coverage to a plan that did cover orthodontic treatment. For a small increase in our dental premium, we gained $2500 of orthodontic coverage. That coverage takes care of a huge chunk of the bill.
Setup A Monthly Payment
The orthodontist's office is very flexible in setting up a plan that works for their clients. The plan we agreed to was a down payment of $247, and 30 monthly payments of $170. These payments are all made out of our Health Savings Account. Our monthly contribution to our HSA is $250, which means the balance will continue to grow by $80 a month. That continued contribution, along with the current balance means that we still have funds to pay for new eyeglasses or other needed medical care AND pay for our daughter's braces.
The bill will be paid for much faster than 30 months. The payment plan does not take into account the insurance payout. After the insurance company chips in their $2500, it will only take 15 payments (plus the down payment) to wipe out the entire cost of the orthodontic treatment.
Future Plans
The insurance company will be paying out the entire $2500 in quarterly payments during 2016. That's the maximum lifetime orthodontic coverage my daughter can receive from my policy, therefore when it's time to enroll for 2017 healthcare options, we'll be dropping our dental insurance back to the basic plan.
My daughter's physically been ready for braces for over a year. She lost her last baby tooth about 16 months ago, which was what most orthodontists are looking for to begin treatment. We delayed that treatment by a year to allow us to put into motion a plan to allow us to both pay for her braces, and have funds available to pay for our own medical costs without having to incur a major hit to our budget.
Have you ever planned for a major medical expense in advance? Have you ever increased your coverage for just one year in order to get extra coverage?