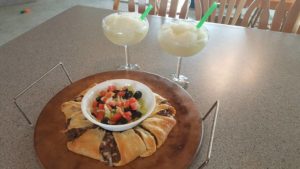 "I want a Margarita," said my wife.
We both had had a busy day doing separate activities and we were making plans for the evening together. My wife was in the mood for an adult beverage, and we began discussing where we could get a good margarita and dinner. We both made a few suggestions, but nothing really sounded good. Neither of us really wanted to be around other people. What she said next was music to my ears.
"We could just get stuff and make drinks and dinner at home."
Not being a fan of dining out, I was quick to jump on the suggestion. First we started searching for margarita recipes. Once we found one that sounded good, we laid down plans for what we wanted to eat for dinner. Following the Mexican theme, my wife remembered a recipe for a taco bake that she had seen. We've never made it before and she suggested that it would be fun for us to cook something new together.
We created a list of everything we needed to make both the taco bake and the margaritas and headed to the stores to pick up the supplies.
First we went to the liquor store for the adult beverage ingredients. Since we were doing this ourselves in the comfort of our own home, we decided to buy top shelf ingredients to make the best margaritas possible.
Liquor Bill : $48 for a 375ML of Tequila, and a 375ML of Triple Sec
Next we went to the grocery store to pick up what we needed to make our dinner.
Food Bill: $24 including tortilla chips and queso dip as an appetizer.
Once we got home, we had a great time together making frozen margaritas and the taco bake. We even created a Mexican restaurant environment by playing the Latino music station through our cable service.
Cost Comparison
Estimated Restaurant Cost
Had we actually gone out to a Mexican restaurant, our bill would have looked something like this:
Chips and Salsa/Queso: $0. This is commonly free at most Mexican restaurants
Entress: $12 x 2 = $24. I looked at our favorite Mexican restaurant for a cost estimate.
Margaritas : $7 x 4 = $28. We made HUGE margaritas that would likely had been 2 each at a restaurant.
Tip: Giving approximately a 20% tip, this would come to about $11.
Total Bill: $63
Staying At Home Cost
Total Bill: $72
Wait, wasn't eating at home supposed to be cheaper? We've forgotten something very important here that affects the actual cost of our dinner. We actually only consumed 3 oz, or 90ML, of each container of alcohol. That works out to be 24% of the alcohol.
When we calculate how much of the alcohol products we actually used, our cost looks like this:
Adjusted Bill: 35.52 – a savings of $27.48.
Granted, the full alcohol bill needed to be paid out of pocket for this event, but we could do this several more times before we need to buy the alcohol products again. One could have the perspective that we paid slightly more this time, and subsequent events will be much cheaper, or the savings could be spread across all events.
Either way, we had a great time at home making margaritas and cooking together. I'll take that over sitting in a booth waiting for someone to bring me something I may not like, and margaritas made with low quality products any day.
How about you EOD Nation, have you ever tried to recreate a restaurant quality meal at home?