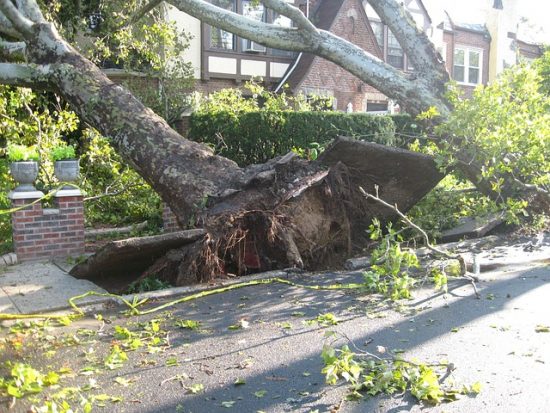 The sound of heavy rain from a summer storm suddenly included the occasional loud thump on the roof, or against the side of the house as gusting wind hurled the bits of ice against it. It was hailing. When the storm passed everyone in the neighborhood inspected their homes for damage.
Over the next few weeks, trucks with home repair company's names on the side drove up and down the streets knocking on doors. They introduced themselves, asked if the home had any damage from the storm, and promised to help the homeowner get as much out of their insurance company as they could.
Dealing with storm damage to your home can be a confusing and exhausting ordeal. However, following the five steps below will guide you through the process.
Seek Reputable Local Contractor
When widespread storm damage occurs, contractors may swoop into the area looking to make money. Dealing with an out of town contractor may be difficult if workmanship or warranty issues arise.
Instead, search for a local contractor recommended by someone you know.
Get A Free Repair Estimate
Have the contractor inspect your home for damage, and provide a written estimate to repair it. The estimate should be free. If it's not, find a new contractor.
Decide If Filing A Claim Is Worth It
If you home has minimal damage that is under or even slightly over your deductible, it may not be worth it to file an insurance claim. If you don't know your homeowner's insurance policy deductible, call your agent.
However, if your home sustained significant damage to the windows, roof, filing a claim will minimize your out of pocket expenses to restore your home.
Contact Insurance Company
If filing a claim is the right choice, contact your insurance agent to file a claim. They will likely have an insurance adjuster come to inspect the damage.
Have Contractor And Adjuster Present
Ask your contractor to be present at the same time as the insurance agent. The insurance agent's job is to pay to repair as little as possible, whereas the contractor's goal is to fix as much as possible.
Having both parties present to discuss the damage will hopefully result in a fair and balanced repair plan.
Once your contractor and insurance company agree on what will be repaired, and at what price, the work can begin.
When dealing with storm damage to your home, don't put the entire process into the hands of anyone else – not the contractor nor the insurance company. Be present for all inspections,ask questions and most of all, remember these people work for you. By following these guidelines the storm damage will be repaired while minimizing your out of pocket costs.
Readers, have you ever dealt with storm damage to your home? Share your experiences below!
Read More
Read more insurance related posts: