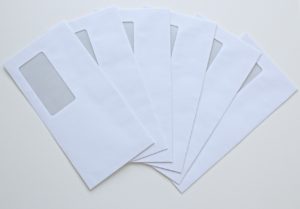 Vacation can be a dangerous financial proposition, even for the most dedicated budget savvy family. One might be diligent in planning out their spending in day to day life, but going into vacation mode can lower a person's guard. It's easy to justify not wanting to put in the effort, to just want to relax, not worry about money, and believe everything is going to OK.
This kind of lapse in financial judgment is exactly what I'm hoping to avoid. My family and I are headed out on a cross country road trip to Florida later this week. We'll travel for a few days and spend a week in sunny Florida before heading back home. As one might imagine, this family vacation will cost a significant amount of money. We have a trip budget, with even a bit of a slush fund for extras. But in order for our budget to work we have to stick to the spending plan, which is why we'll be using the envelope method to help us keep our trip budget on track.
Making the Envelopes
We've prepared for our trip by creating a series of envelopes marked with the day of the vacation, the purpose, and the amount. Each day has a series of envelopes targeted at a specific expenditure. The first two days are exclusively travel days, each having the following envelopes:
Day 1 or 2 Gas
Day 1 or 2 Food
Day 1 or 2 Travel Snacks
We will arrive at our destination on day three, and will be staying at a Vacation Rental By Owner (VRBO) with some friends of ours. For food during the week, we'll be doing much of the cooking ourselves at the VRBO home,, so we'll be hitting the grocery store that day, requiring an additional envelope. Thus day 3's envelopes are as follows:
Day 3 Gas
Day 3 Food
Day 3 Travel Snacks
Day 3 Groceries
Days 4 through 9 are the days we'll be actually in Florida. We've budgeted a base amount of money for each day, so we have 6 envelopes marked "Fun." We also have an envelope labeled "Fun XL." One of the days we're planning to hit an outdoor mall area that also has boat tours, jet skis and other activities. We don't know what day we're going to decide to go there, but when we figure that out we'll add the Fun XL envelope to that day's spending money.
Day 4 Fun
Day 5 Fun
Day 6 Fun
Day 7 Fun
Day 8 Fun
Day 9 Fun
Fun XL
We also have two additional envelopes. One is for a mid-week secondary trip to the grocery store, the other to contain our extra cash in case some is needed.
Days 10 and 11 are our days traveling home, and have the same travel envelopes as the beginning days of the trip:
Day 10 and 11 Gas
Day 10 and 11 Travel Snacks
Day 10 and 11 Food
Hotels
We will be paying for our hotels with a credit card for convenience, even though I despise the hotel industry's viewpoint on credit cards and damage holds. Hotel stays are an expense that is more or less set in stone (after researching to find the best deal, of course). We don't have to keep ourselves from overspending as once we made the reservation the price is what it is.
Under or Over Spending
We believe we have budgeted our spending generously just to make sure we don't find ourselves constantly worrying about running out of cash. Should we not spend all the money in a day's allocation, the money left over goes into the Slush envelope. Should we need some additional cash, it will likewise come out of the Slush envelope.
Carrying Cash
The one downfall here is the sheer amount of cash on hand during the vacation. We'll have to be mindful of where we store our envelopes and pull our cash our discretely to avoid theft, or just losing an envelope.
I love the envelope method, because it puts physical cash into my wallet. With each purchase I can see exactly how much money I have left, encouraging us to really think about our expenditures and getting the most for our money. Using the envelope method for our vacation spending gives us the best chance of staying on budget while having a great time.
How about your, EOD Nation, how do you handle your finances while on vacation? Have you ever used the envelope method to help keep your vacation spending on track?