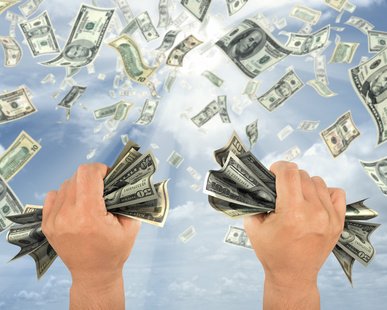 In my first "5 Killer Ways to Make Money" article a while back, I showed you 5 things you could do to earn extra money to pay off debt, invest, catch up on bills, etc.
I truly believe that no matter how good or bad the economy is, there are plenty of great ways to make extra money if you need it.  You don't have to be a rocket scientist or a serial entrepreneur to find a way to earn extra money, you just have to be willing to break out of the 9-5 way of thinking and be a little more creative.
Here are 5 more things you can do to start earning extra money right now:
Jobs and Gigs on Craigslist
Craigslist has "Jobs" and "Gigs" sections where you can find extra work doing odd jobs or even skilled work.  During a search recently, I saw ads for people needing everything from house cleaners, to a Russian speaking baby sitter, and skilled positions such as virtual assistants and writers.
It's likely that you have some type of skill that others need, and Craigslist is an awesome place to start because connects you with people who need your skills much more efficiently than you ever could before.
Sell Things on Ebay
Clean out your garage, your closets, your attic, and your basement.  Get rid of all your old junk you don't use anymore by selling it on Ebay.  You can do a variation on this by buying items at garage sales for very little, then selling them for a profit on Ebay.  This can work really well for items you can group together, such as children's clothing.  You can buy them at a yard sale for $.25 to $1 each, group them into outfits and sell them for$10-$15.
You want to sell things that are in good condition, but I've personally sold things like broken cameras and other electronics on Ebay.  Many people want to buy broken items just for the parts.
Car Detailing
Many people don't have the time or willingness to keep their car as clean as they'd like.  That's where you have an opportunity.  You can work part time and/or on the weekends detailing cars for your friends and neighbors.
You can solicit your detailing services at businesses with a lot of office workers, which allows you to detail several cars in one location while the owners are working.  It's not extremely difficult work, and if you do an excellent job you'll get plenty of referrals.
We used to have a detailer that came to my office about once a month and he would typically do 2-3 cars while he was there.  Extra income from that kind of work can add up pretty quickly!
My teenage son has even tried this one.  He passed out flyers in our neighborhood and has made a few hundred dollars so far just from our friends and neighbors.
Have a Big Garage Sale
Yes, I know it's standard advice.  But hey, it works.  If you have large items like appliances or furniture that you need to sell, you can get them sold pretty quickly if you price them well.  A garage sale is a great way to make money quickly and get rid of the clutter in your house at the same time.  If you have any items that don't sell, donate them to Goodwill or your local thrift store, and you can write it off next year's taxes.
Deliver Pizzas
This is an old favorite straight from Dave Ramsey.  For years Dave has recommended that people who are getting out of debt can deliver pizzas part time and put that extra money toward paying off their debt.  The restaurant pays you, and if you do a great job you'll make tips from deliveries on top of that.
Making Extra Money Is All About Hustling
Even in a down economy you can always find opportunities to make extra money if you know where to look.  You just have to look in places you might not have thought about before.  You have to get out there and hustle.
I've said this many times before, and I'll say it again, I am completely convinced that in the entire history of the world, there has never been a better time to find ways to make money.  In this digital age where you can sell goods and hire out your skills to virtually anyone on the planet, you really can operate a global business from your laptop.
So if you need extra money to pay off your debt, make ends meet, start an emergency fund, or to invest for retirement, just do a little research, come up with a plan and take action.
You can do it!